Recently I stumbled across a publication from HMRC, it stated the forms of communications they would use to contact the tax paying public. Example messages were displayed in an attempt to 'whitelist' communications. Basically, if you receive correspondence that looks like the examples listed, it could be from them.
Some excerpts from the article found here read:
Text messages

HMRC is sending text messages to some customers, explaining what you need to do if you're behind with your payments. These messages will also give details for paying HMRC or a helpline number for you to contact.
Email

HMRC will send an email to customers who have registered for VAT using HMRC online services. HMRC will use the email address customers have provided to advise that they need to log into their online tax account in order to view a message in the secure messaging area. These emails will never ask you to provide personal or financial information.
So it seems like a good step in fraud prevention, you have a publicly available article entitled "Genuine HM Revenue and Customs contact and recognising phishing emails" and some examples of what these communications will look like… where can we possibly go wrong?
The thing about fraudsters is they are notoriously sneaky and will use any information to their advantage. The above statements, whilst naively attempt to cut attempted frauds will also play their part in assisting such crimes. Let us take a look at how…
Looking at the text message advice, HMRC state "These messages will also give details for paying HMRC or a helpline number for you to contact." so let's take a look at what a fraudulent SMS message will look like: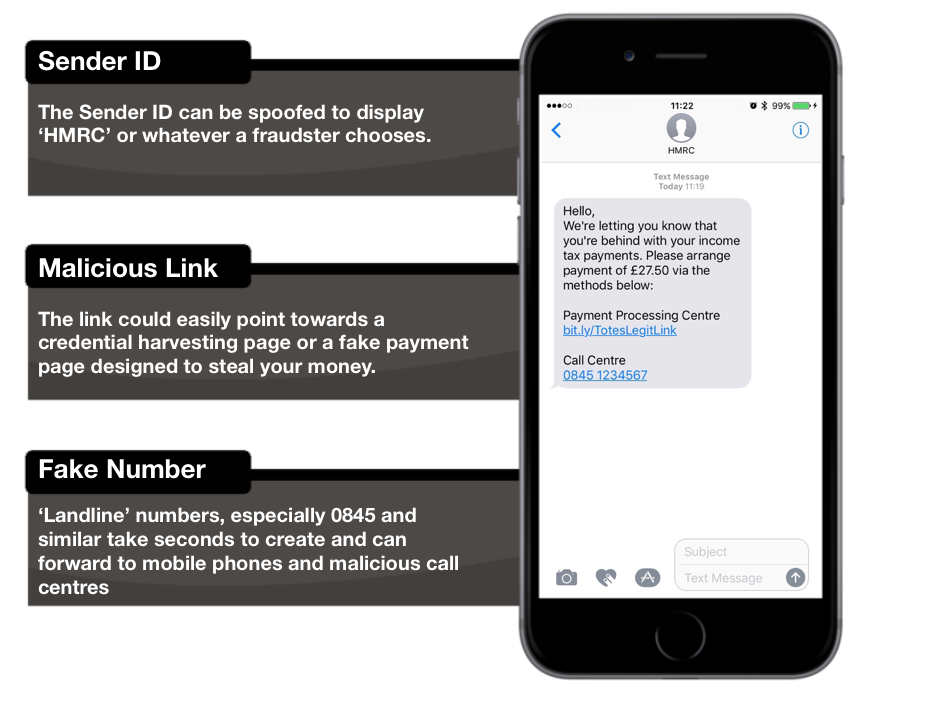 It's just a blog post rambling at the inefficiencies of the Government – I get that, but how are the public ever supposed to get to grips with cyber crime and frauds when there is so much confusion. The layman doesn't read the technical articles online regarding genuine HMRC correspondence they read the daily papers and from an article published on the 12th February 2017 in the Telegraph we hear:
HMRC said it will never use texts or emails to tell consumers about a tax rebate or penalty. Nor will it ever ask for personal or payment information via these means.
So where on earth do experienced journalists get this stuff from? Why spread such blatant misinformation when they have a document claiming HMRC do!
IMPORTANT: We will never ask for personal/payment information by text or email. Please share to help others https://t.co/YHWDycRUdt pic.twitter.com/SS1uxbYKZ0

— HM Revenue & Customs (@HMRCgovuk) 15 January 2017