Shampoo, bubble bath and room sprays, Avon has everything you need to unwind in aromatherapy euphoria. But would you feel so relaxed knowing that your data might be vulnerable to criminals?
For those who don't know, Avon is a company which has door-to-door sales representatives in your local area. It's a great way of purchasing beauty and cosmetic products, delivered straight to your door. You peruse the brochure, select what you want, write down your order on the attached order sheet and leave it on your doorstep for your sales representative to collect.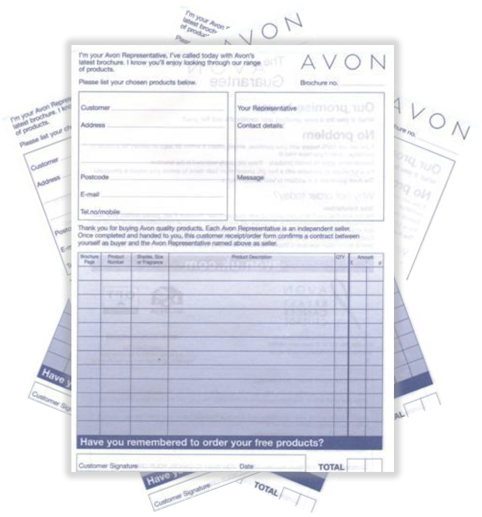 This made us think… How many people willingly leave their data on their front doorstep, perhaps your email address and your signature? The order sheet asks for your name, address, telephone number, email address and signature, all to be left outside.
Opportunist criminals could easily harvest your personal data from these order sheets to commit criminal activity. When calling any customer services, many security questions include your full name, address, email and telephone number. Criminals might then attempt to take control of your accounts. Some bank branches hold your signature, which is used to authenticate yourself when making transactions.
It may seem far fetched, but these are the details criminals need to commit identity theft and fraud. Leaving you feeling somewhat less than relaxed!
Your sales representative will usually leave a contact number on your order form, make sure you take advantage of this. If you're not ordering anything and not completing the order form, then it's safe to leave your book outside for collection. But if you do place an order, why not try texting your representative one of the below messages?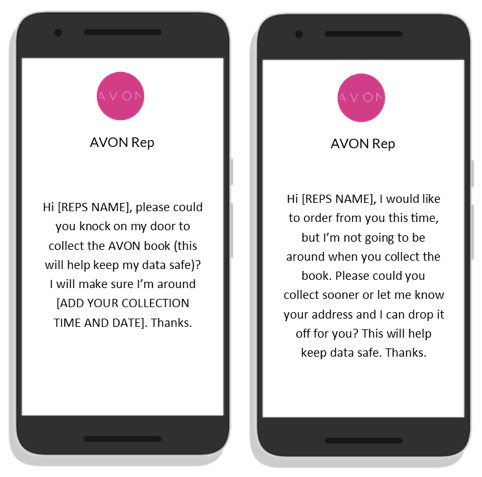 We have reached out to Avon UK to request for a response to our concerns and have not yet received any further communication.
There are a few companies that choose to operate door-to-door. Some people may remember a similar service which sold home cleaning and maintenance products, called Kleeneze. Kleeneze ran a similar setup, local representatives would deliver a catalogue and asked for it to be left on your doorstep for collection.
With Kleeneze, things were a little more disturbing. Customers were additionally asked to leave their banking details on the order form, along with their personal details. Now a potential criminal would have the ability to make fraudulent transactions. Kleeneze entered administration in 2018 and have since ceased trading, due to 'operational issues'.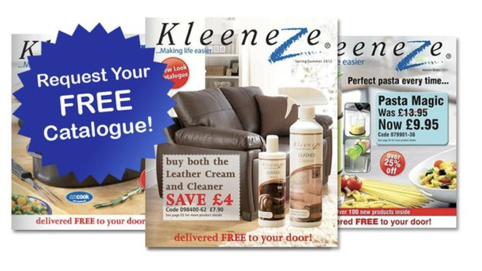 How To Stay Safe
Ordering from catalogue traders is a great way to save time and help individuals with mobility issues. It also provides additional income for many families that work for these companies. However, it is not without its risks. Here are our top three tips to help keep you more secure:
Do not leave your completed order forms on your doorstep.
If you use doorstep catalogue services, ask your sales representative to arrange a collection time to pick up your order forms in person.
Where possible, use an online ordering service that is secured with HTTPS.
When you see HTTPS, this means that your connection between the website and the server is secure. It does not necessarily mean that the website is safe, but will prevent your web traffic being intercepted by criminals. Payments must always be made through HTTPS. You can also take a look at the certificate by clicking on the padlock icon for further information about the website.
Use a credit card or Paypal for more protection.
Using a credit card to shop online is a good way to protect yourself from scams and make it easier to obtain a refund if fraudulent activity is detected. These transactions offer more protection than other payment types. If fraud is committed without knowledge or consent of the cardholder, they cannot be held liable for purchases more than £50. Some credit card providers go further by offering 'Internet fraud guarantees' with zero liability when the fraud takes place online; meaning it is usually much safer to pay by credit card when shopping online.
PayPal often comes into its own when shopping on smaller sites, buying from individuals and of course eBay. The main benefit of PayPal is that it hides payment details from the company or person that you are buying from, which means your personal information stays safe. PayPal offers its own 'buyer protection', which guarantees your money back if you should you run into problems.
RECEIVE OUR NEWSLETTERS
BLOGS • SECURITY NEWS • EVENT INVITES • COMPANY NEWS • TIPS AND ADVICE