Hosting a meet up in 2019 was a rather easy affair. You put the word out to your friends and peers, dropped a little hype on social media and headed to M&S to grab some snacks and few bottles of wine. It was a simpler time where you could look someone in the eyes and sense their social anxiety in person.
Jump forward to 2020 and the ever consuming apocalypse we are all living through, constantly draining our morale, the simplest of challenges become major hurdles. The Zoom meetings don't offer the right balance for a truly social event – it all feels like that last day of the school term where you could watch videos rather than work! Yes, we are all together on the call and in some aspects we have ticked the boxes of social interaction. People can join the conference and chat away, but it still feels a little like work… but without the stress, again the analogy of the last day of school is all I can think about here. Try as I may, the video backgrounds and funny hats don't compare with that feeling of going out and interacting with real people.
Good Social Events
I had the pleasure of a few pretty decent experiences over the last month that helped shape InfoSE. The first was an Information Security conference called 'InfoSec Oasis', the second a social engineering webinar hosted by City of London Police involving myself. Now these two individual events were amazing for many different reasons but the feeling of social interaction struck me as something genuine in both of them.
InfoSec Oasis provided the opportunity to speak to some truly interesting people. The police webinar gave me the first reason to iron a shirt in months. I wanted to do what we could to get people together, entertain them, provide people with engagement and all roads pointed to a mashup of a professional webinar and some kind of VR online meet-up.
An AntiSocial Social Club
So, a webinar with only yours truly and a few hours in VR with me in some wacky colourful virtual reality world… hardly the event of the year and to be honest not one I would attend myself if I wasn't the host. So I knew there was more work to be done with this plan.
Webinar – This needed collaboration with other social engineers, some people much better with people and funnier than myself – some balance to what could quite easily be a dry mundane event. Cue the big guns. Jenny Radcliffe, James Linton, Sarka Pekarova accepted this call to arms and will be the stars of the planned 10am webinar.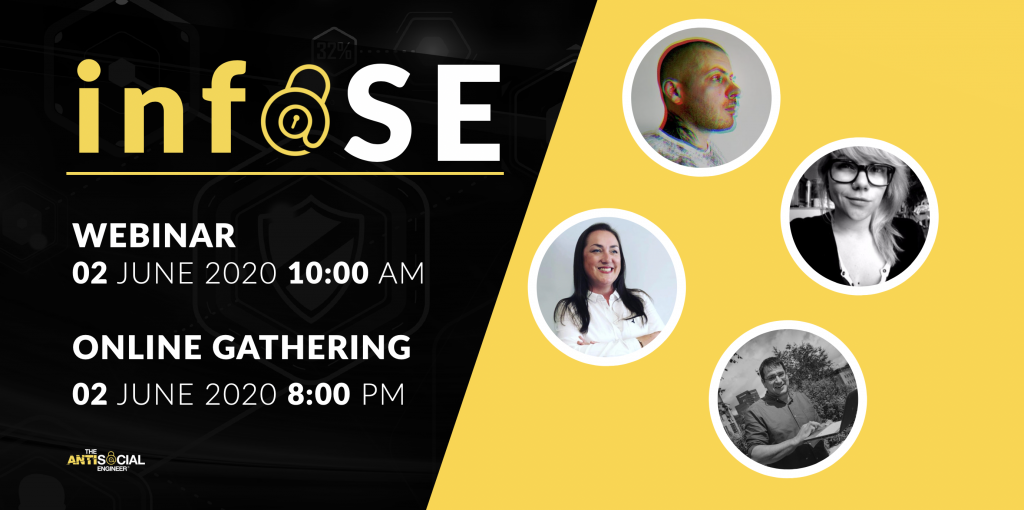 VR Meet Up – AltSpace VR was the clear winner for us when comparing online platforms to meet your friends. The small company hit troubles in 2017 but since then they have been acquired by Microsoft and it's pretty much full steam to the moon over there. It's a great platform and one that was showcased well with InfoSec Oasis event. One minor criticism is the bright, colourful avatars and sets do nothing to add to any form of realism but oh boy… how happy I was when I discovered Alan Chao. Who is Alan Chao you ask?
Alan Chao and the Curious Brooklyn Rooftop
Flicking through the options for worlds in AltSpace I was keen to find a good one to host the gathering in, so for a few hours I flicked from featured world to featured world in search of a good place to host some kind of get together for attendees. One map was unlike the others 'Brooklyn Roof Top Hangout'.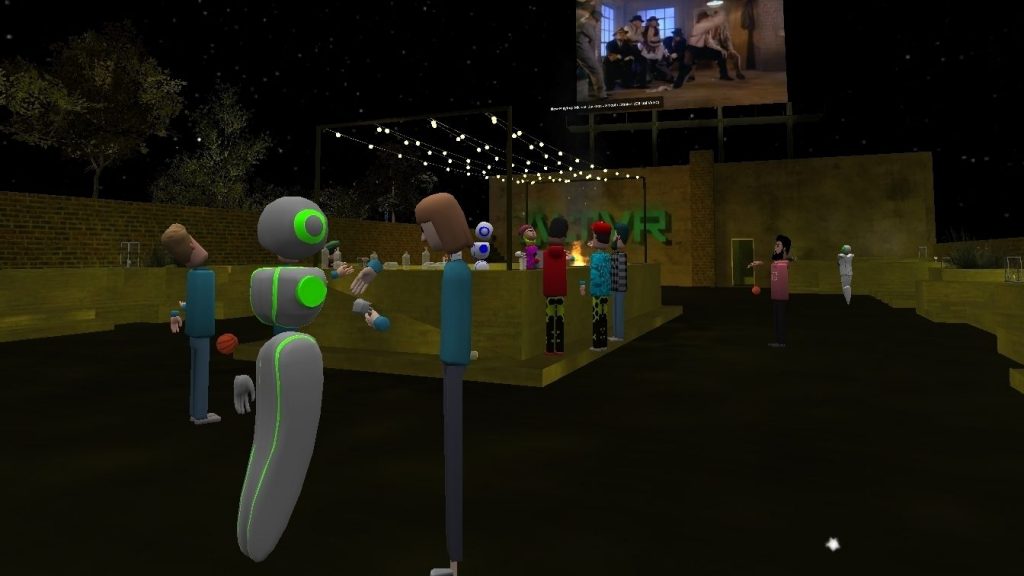 It's hard to explain in person, never mind the ramblings of this blog but the atmosphere was surreal. You head up to a rooftop bar, complete with a hipster lo-fi sound track playing on the screen. Ambient sounds echo traffic surrounding the area. It's not the virtual hot tub or the open fires that make the map, it's the sense of calm and relaxation. This is just the place I would like to exist close to me in real life! This would be by chosen local.
There was one small issue… Alan's map is a featured map and it wasn't available to be used so hopeful that it would be, some short correspondence followed and we are so happy that he is allowing us to use this space. In the Googlings I noticed this Medium piece which goes a long way to explaining some of that feeling, artistically created by Alan… a must-read for all attendees.